Episode
Episode specializes in budget minded speaker systems that still provide decent sound quality. Most of their speakers are installed in the wall or ceiling, creating a solution that is practically hidden away.

RBH Sound
Since 1976, RBH Sound has been designing, engineering and crafting high-performance loudspeaker systems, delivering superior acoustic reproduction at sensible prices. In our opinion RBH has some of the best service we have ever encountered. Their continued support and outstanding warranties (5 years parts and labor on cabinet-style speakers / 25 years on traditional in-wall products) allow us to give our clients first-class service.
After all, it's the service after the sale that counts – and with RBH, service is second to none. The company is based out of Layton, Utah, and has over 25 years of experience. RBH Sound has taken loudspeaker manufacturing to the next level with their line of freestanding and in-wall/in-ceiling speakers designed for custom installation. Their highly acclaimed Signature Series is available in over 30 uniquely different, high quality, genuine wood grain veneers, and was designed to both look and perform beautifully. When all of us here at Elite Sound and Cinema think of RBH Sound, we think of performance, integrity and value.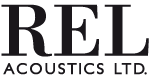 REL Acoustics
REL's slogan is "Do one thing. Do it perfectly." The one thing they do is subwoofers and they do them very, very well. REL is a British company founded in 1990 and today is among one of the fastest growing companies in the subwoofer market. REL subs are typically smaller in physical size than other subs, leaving a small footprint in your living space. But don't let the small size fool you, these subs make up for their small size with technology that provides clean, fast and detailed bass. REL subs are known for their musical ability which means they are fast enough to keep up with the demands and nuances created by music notes. Audiophiles who usually prefer turning the sub off during listening sessions end up leaving them on because they sound so musical. Then, when needed, a REL sub can turn into a little monster to produce the impact and dynamics created by movie soundtracks. In fact, REL engineers sometimes work with Hollywood studios to ensure their product will play what the director intended. For accurate, dynamic and musical bass reproduction from a small footprint, REL is the place to look

Stealth Acoustics
Today's multi-channel surround sound and whole house audio systems require multiple speaker locations. The result can be an ever growing number of speaker grilles, boxes and hardware that compete with the décor of your living space. We invite you to experience the freedom of invisibility. With Stealth Acoustics products you can have dynamic full range audio placed where it needs to be without regard to the architectural conflicts that occur with conventional grills and boxes.  The end of Esthetic Pollution

Sonus Faber
Many people don't realize how integral the cabinet is in speaker design, and very few speaker manufacturers spend as much time on cabinet design as Sonus Faber. In part to create an elegant and aesthetically pleasing piece of furniture, the other part to create the ideal enclosure for speaker drivers to develop sound, a Sonus Faber speaker represents fine craftsmanship and engineering from all angles. Designed and made in Italy, Sonus spends countless hours designing drivers as well. Each driver is hand matched to the other drivers, the crossover and the enclosure, all to ensure the most accurate and balanced sound possible. When you see Sonus Faber speakers, they exude fine luxury. When you hear them, it's about as close to live as you can get.